About Us
Bamboozled Entertainment was established in 2007. Paul and Hayley, the founders of Bamboozled have both had over 15 years of experience of working and training in different areas of the entertainment business. As they are both professional entertainers, they can easily advise what will be the most suitable entertainment for your party or event. The entertainers at Bamboozled pride themselves on a high level of performance and professionalism that meet equity's rules of conduct for entertainers.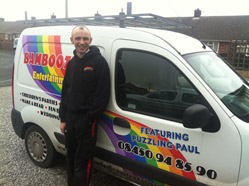 Paul started out as a young magician at the Hull Magicians' Circle and has since won many magical awards. Paul is also a professional close-up magician and can often be seen performing his comedy magic act.
As well as managing Bamboozled, Paul provides entertainment for children's parties going by the name Puzzling Paul. Paul is Bamboozled's most popular entertainer and is always fully booked. He is renowned for his amazing balloon models and the hilariously funny Puzzling Paul magic show. Paul is also a father of 3 young children. Paul believes this has been the best training any entertainer could have and has played an important part in the rapport he has with his audiences. Paul has mastered the essential balance of being on the children's level (with out being patronising!) and also being completely in control from start to finish.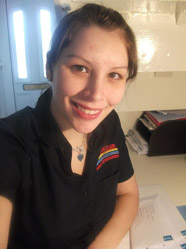 Hayley has experience in many areas of the entertainment industry. She trained as an actor at the Manchester Metropolitan School of Theatre and began working part-time as a Human Statue to pay her fees!
Hayley worked for the Magic Carpet Theatre Company for two years touring children's theatre productions to schools and theatres all over the country.
During her time at Magic Carpet Theatre she developed many skills; Circus Skills, Magic, Balloon Modelling and Face Painting. From Magic Carpet she went on to work as a Magicians Assistant in an Illusion Show. Working alongside a magician inspired her to create her own magic show.
To Book your Entertainment call 01964 529325 or Enquire Online.